(Received December 31, 2001)
Dear James,
I have been involved in the Genealogy of my family and the History of the O'Hara Sept for more than thirty years now and have some information that I would enjoy sharing. Iv'e just retired from active service as a Catholic Priest in the Archdiocese of Boston after working in Parishes for 44 years with three terms as Pastor. And, I have just begun to get involved with Genealogy on the Computer this past couple of years. If you could use this material or let me know how I might include it in your Web, I would appreciate it.
THE O'HARA FAMILY OF CHARLESTOWN MASSACHUSETTS
Part I: John &Margaret O'Hara & Sons
Go to: Part II
Letters to Editor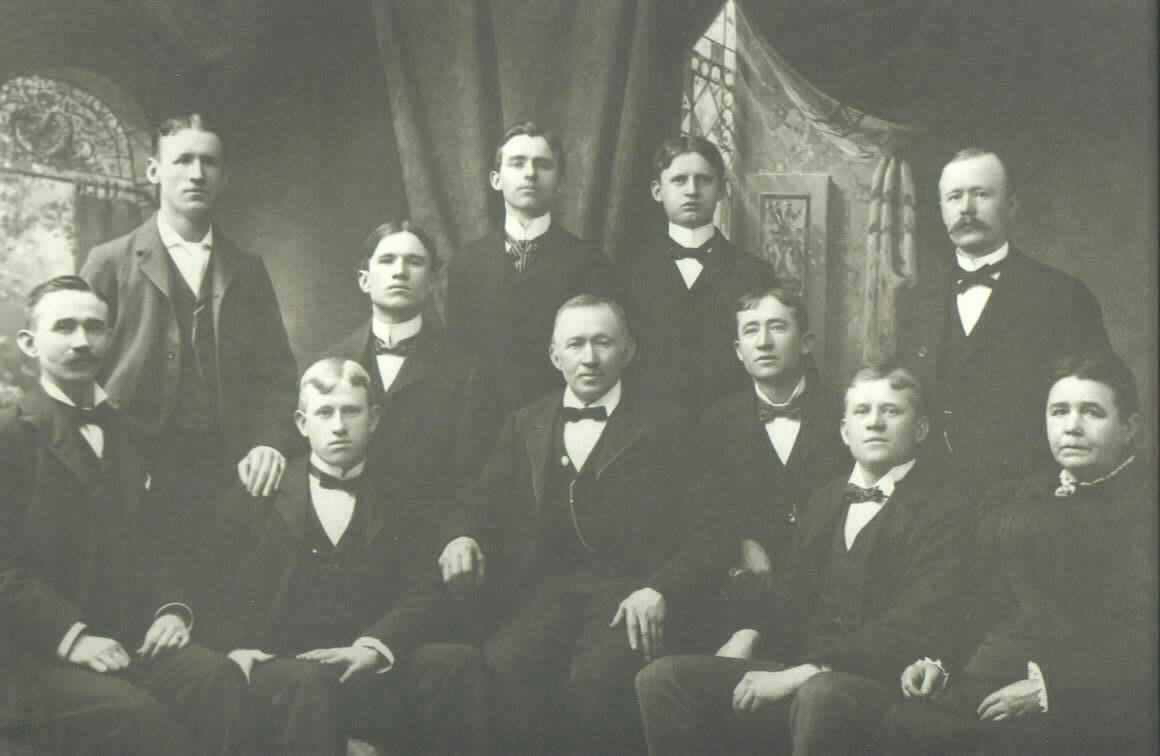 About This Photo: This picture, which I have chosen as the cover photo for my family site, depicts my Great-grandfather, John O'Hara and Great-grandmother, Margaret [Duddy] O'Hara with their nine sons. Margaret died in 1899. John in 1900.So the photo was taken before 1899. John and Margaret and the oldest son, Michael, were born in Ireland. Six of the boys were born in the North End of Boston and the last two were born in Charlestown. John is seated in the front center and Margaret is seated front right. Beginning on the left from bottom to top are John, James,William [who is my Grandfather], Richard, Bernard, Dennis, George, Edward, Michael. The family lived on Charter Street and Endicott Street in the North End beginning in 1860 and purchased their own home at 102 Medford Street in Charlestown in 1874. John Jr. became a Boston City Coumcilman; Michael was a printer; my grandfather and great-grandfather both worked for the City of Boston; Richard and Bernard started an early Milk Delivery Company in the City of Boston and O'Hara Brothers Milk had a Contract with the Boston City Hospital in the 1890s. I have traced the Family in the Boston City Directory all through the 1860s-70s-80s-90s. When they came to Boston from Pennsylvania in the early 1860s, they moved into an apartment with another John and Margaret O'Hara at 31 Charter Street in the North End. John's parents were John O'Hara Sr. and Margaret Noonan. Margaret Duddy's parents were James Duddy [a corruption of the O'Dowd Sept name] and Elizabeth Sheilds. They came to the United States from County Derry, Ireland in the late 1850s.
Rev. Francis A. O'Hara
Reply to: FatherOH56@aol.com
PS. It might be of interest to you that I am first cousin, once removed through our fathers, to Fred O'Hara whose Website (http://www.fohara.com/) is included in your Regional/Tennessee category. Fred is the Grandson of John Jr [seated front left] and he is also Great-grandson of John and Margaret [Duddy] O'Hara.
Follow-up (received January 6, 2002)
Dear Jim:
Some interesting (at least to me) embellishments to Fr. Frank's synopsis of the family: The John O'Hara that John and Margaret moved in with when they first came to Boston was a first cousin who was a fisherman (according to his immigration papers). The existence of the two John O'Haras with similar immigration dates, emigration points, and new-world addresses has made tracing the family even more challenging. One of John and Margaret's next-door neighbors during their tenure in the North End of Boston (a perennial staging ground for immigrants of all nationalities) was Rose Fitzgerald, who married Joe Kennedy and bore John Fitzgerald Kennedy. The John O'Hara, Jr., described by Fr. Frank was also a member of the House of representatives of the Commonwealth of Massachusetts. He served both on City Council and in the House of Representatives under James Michael Curley, on whose ticket he ran.
Fred O'Hara
Reply to fohara@fohara.com
Follow-up (received January 21, 2002)
Dear Jim:
Thru trial and error I found Fr Frank. Since then, he has confirmed what info I had. He has been very generous sharing his expertise. My grandfather was Bernard O'Hara, he is also in the photo, standing behind his father. Bernard married Ellen E. Ripley and they had 6 children. My father was Albert Andrew O'Hara. Fr Frank suggested I post a message on the GENFORUM, which I did, Jan 20,2002. I thoroughly enjoy researching and learning about the O'Haras, it is quite addictive.
Sincerely,
Elaine Casey
Reply to elacas978@aol.com