(Received December 13, 2009)
William Alexander ("Bill") O'Hara (1883-1931) - Canadian Baseball Hall of Famer, well not yet!!!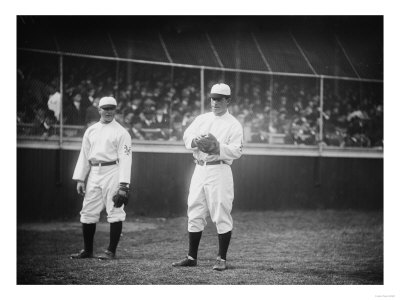 Willie's baseball career and biography:


1902.... Syracuse Stars and Montreal Royals
1903.... Seattle Siwashes.... and Oakland Oaks....
1904.... Toledo Mud Hens...
1905... Wilkes-Barre Barons.... and Baltimore Orioles...
1906- 1908 Baltimore Orioles.... won championship in '08....
1909/10 the show with New York Giants and St. Louis Cardinals...
Mgr. Johm McGraw says: " as a major league outfielder, there was no superior outfielder..".
1910- 1915. Toronto Maple Leafs win championship in 1912....
1926/7 and 1927 Manager of Toronto Maple Leafs...
1928 resigns as mgr to resume duties as business mgr of Maple Leafs base ball team ...
1931 dies on road trip to New Jersey .
William Alexander O'Hara qualifies for induction into the "Hall" in all categories..... builder, player and manager as well as war hero... he came back from WWI and Battle of Ypres shellshocked... could he have been gassed at Ypres, Willie served in 24 th battalion C.E.F after starting in Royal Naval Air service as flight lieut ... he also hung out with the artists and empresarios of Braodway. In 1909... George M Cohan was a close bud.... he was a mad Irish comedian.... certainly no Blarney transplant need for him!!

Andrew Hunter

(cousin of William Alexander O'Hara)
PS. These 2 photos (tif-format) are from the Toronto archives. This is of him and Ty Cobb! Looks like an All-star type game but I'm not sure if they had that back then. I forget the year, it was Ty Cobb's last year that he played I believe.
home | tree menu| Letters to Editor