(Received August 30, 2007)
Photo of O'Hara, Donnelly and Dermady First Cousins (ca. 1900)
Hi Jim
I found this picture in my files and am sure it will be of interest to kindred researchers.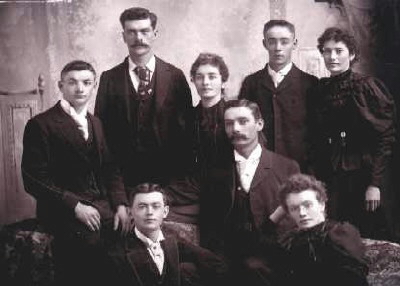 Names recorded on the back
:
Front row: Frank Donnelly and Margaret O'Hara

Middle row: Jack Donnelly and James O'Hara

Back row: Steve O'Hara, Annie Dermady, Jack O'Hara and Jane O'Hara.

Time and place are unknown but my guess is turn of the century, in Westport, Ontario, Canada.

Regards,
Janice Dukes Martin
Paternal Lineage:
: McNally, Dermody, Donnelly, Burke,
O'Hara
, Jeffries, Parrett, Holt, Johnson, Conner
Return to: Letters to Editor | home | tree menu