(Received March 25, 2022)

Dia daoibh, everyone! I made an Entry here in January (Message 808) of this year, but I was wanting to make a more detailed follow-up.

I live in Northwest Arkansas, but many of my family lived in Newton County, Missouri, specifically Pierce City and Monett, and many are buried in the Saint Agnes Cemetery. I've traced my line back pretty far: My father was Jon Jason O'Hara (1970-2005), my grandfather is Joseph William O'Hara (1952-Present), his father was Patrick Francis O'Hara (1917-1979), his father was Francis Patrick O'Hara (1888-1965), his father was Patrick Joseph O'Hara (1840-1916), and finally his father was Bryan O'Harra (1792-1871).

I believe Bryan's father might have been named Francis or Patrick, due to the Irish tradition of naming sons after their grandparents. Bryan, his wife Ellen Anglin, and their son Patrick lived in Killeedy South in County Limerick up until the 1840s. They fled to Northumberland, Ontario, Canada during the Famine, and Patrick came to the U.S. and Newton County around 1876.

As far as my conjectures go, my branch likely lived in Limerick since the mid 1600's, because the O'Haras were very prominent nobles in Sligo before being dispossessed during the Cromwellian Genocide in the 1650's. Sadly, there aren't any surviving records of the family before Bryan's time, so I can't confirm anything about my branch before Bryan.

If anyone finds these names or places familiar, or if you have any information about the family, I would be highly grateful if you could reach out to me. Through this forum, I recently heard from a relative from my branch whose folks had lived in Newton County, and he showed me some amazing family photos that I had never seen! So, don't give up hope if you're trying to find closely related family.

Logan Connor O'Hara

PS. An afterthought: We can actually trace my line back to Catherine O'Hara, as well. Her grandfather or great grandfather was Tom O'Hara, and he was one of Bryan's sons/Patrick's brothers.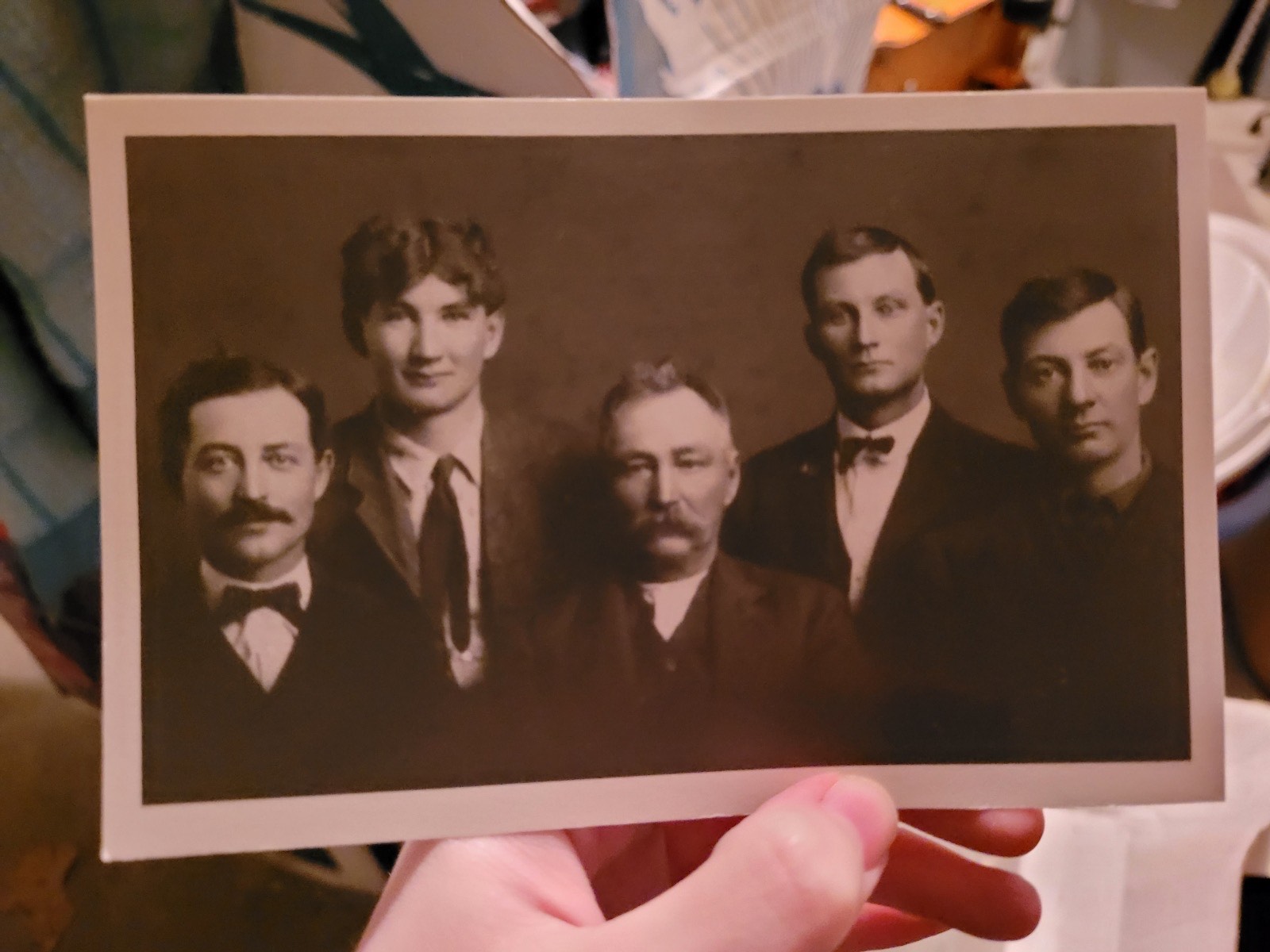 About This Photo: Picture (taken 1916 or before) of Patrick Joseph O'Hara (center) and, to his left, Francis Patrick O'Hara (top left corner)
Reply to: L.connor.ohara@gmail.com
Return to: Letters to Editor